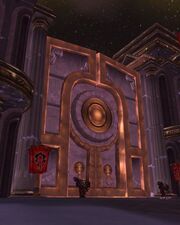 Wintergrasp Fortress Gate is a large gate that protects the entrance to the Wintergrasp Fortress in Wintergrasp.
Notes
This door can only be destroyed by siege weapons.
The only other way to get past the door is by using a

Defender's Portal

, which only the faction holding the fortress can use.
External links