Witness to the Wound
The subject of this article was removed from World of Warcraft in patch 8.0.1.

This includes items and quests that can no longer be obtained or are now deprecated.
The in-game information in this article is kept purely for historical purposes.
For the Horde version of this quest, see  [110] 

Witness to the Wound

.
Objectives
Meet with the SI:7 commander in Silithus.
Description
I've already sent operatives to Silithus to establish a base camp.
Their orders are to monitor the operations of the Horde and gather any information they can find on this mysterious substance.
One of my SI:7 commanders is currently awaiting your arrival. Go with speed.
Rewards
You will receive:
Completion
Well met, <name>. It's good to have someone of your renown here with us in Silithus.
Notes
On accept:
Master Mathias Shaw says: We established a makeshift base in Silithus. Check in with our operatives there--and keep your eyes open for Horde aggression.
Shaw does not provide transport to Silithus: The Wound via the quest. The fastest way is to use the portal to Uldum at [75.2, 20.4]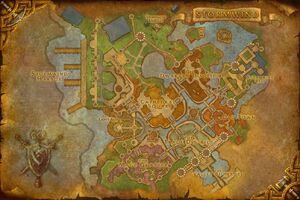 in the Eastern Earthshrine, the Cataclysm portal area between the Embassy and the Keep.
From Ramkahen, use a flying mount to get to the new camp just west of Staghelm Point in Silithus, as Cenarion Hold (and it's flight path) have been obliterated by the sword.
Progression
Pre-8.0 breadcrumbs (no longer available):
 [110] 

Summons to Stormwind

/  [110] 

Summons to Orgrimmar

 [110] 

Gifts of the Fallen

/  [110] 

A Recent Discovery

 [110] 

Witness to the Wound
Active quests:
Pre-8.0 finale for players with Legion Artifact weapons (no longer available):
 [110] 

The Speaker's Call

 [110] 

The Power in Our Hands
Patch changes
External links