The subject of this article can no longer be obtained.

The in-game information in this article is kept purely for historical purposes.

The subject of this article or section is part of WoW's Anniversary
, a
seasonal event
that typically lasts two weeks. Once the event has run its course, this will no longer be available until next year, but there are no guarantees.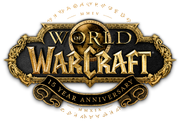 WoW's 15th Anniversary is the Feat of Strength achievement earned for logging in during the 15th anniversary of World of Warcraft between November 5, 2019 to January 7, 2020. To celebrate the 15th Anniversary of World of Warcraft, a Collector's Edition was released in November and a pin featuring the WoW's 15th Anniversary logo was made available at SDCC 2019 and BlizzCon 2019.
Everyone who logged in received a

 [Anniversary Gift] in the mail, which contained:
WoW's 15th Anniversary!
Wow, yet another year has gone by for WoW!
We wanted to thank you for continuing to play World of Warcraft with us, so here's an Anniversary Gift to go with your adventures!
Wh hope that you will join us for a very special celebration in the Caverns of Time!
The WoW Dev Team
Announcement
2019-07-29 00:00 | 
Kaivax
This November marks the 15th anniversary of World of Warcraft, and we have some special things planned to celebrate the occasion. Players who log in during the event period will receive a celebration package in the mail with a
Lil' Nefarian
pet and some other in-game goodies. Throughout the duration of the event, you'll be able to participate in three unique raids with iconic encounters from past expansions along with an old-school-inspired
Alterac Valley
battleground. Players who defeat all nine bosses in the raid wings will receive the
Obsidian Worldbreaker
, a
Black Dragonflight
mount inspired by
Deathwing
. Players who participate in Alterac Valley and complete an achievement can earn two new mounts: the
Stormpike Battle Ram
(Alliance) and the
Frostwolf Snarler
(Horde).
Event
Returning in 2019, an event that runs with the anniversary that allows players to earn items for transmogrifying that were removed years ago.
Quests
Daily quests
Classic world bosses
New items
Gallery
Patch changes
See also
External links