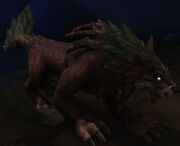 Wolfhawks are large, carnivorous flying mammals which, as the name implies, resembles a wolf-hawk hybrid. They come in three known colors: brown-green, grey-red, and cinnamon-blue. The spirit of a great wolfhawk named Haukenulfnir, who stalked the wilds when the world was new, dwells in the Fields of the Eternal Hunt in the Halls of Valor.[1]
Three named wolfhawks (Kveldulfnir, Mavarnir, and Varoudnir) live in caves in the southern cost of the Eye of Azshara.
Notable
As a mount
As a hunter pet
Main article: Feathermane
Wolfhawks are tamable by hunters as part of the Feathermane family. In order to tame Feathermanes, hunters must purchase the

 [Tome of the Hybrid Beast] from Pan the Kind Hand at Trueshot Lodge at a cost of 1000
.
References
^   [45] 

Night of the Wilds
Creature group
Beast creatures

 

Arthropod

Arachnid
Crustacean
Insect

 

Mammal

Carnivoran
Ungulate

Bovids
Camelids
Cetaceans
Proboscids
Swine

 

Other

Feathermane
Mollusc
Worm
 

Basic
Special

Acid Bite

Chi-Ji's Tranquility

Defense Matrix

Dragon's Guile

Feather Flurry

Fleethoof

Furious Bite

Grievous Bite

Infected Bite

Nether Energy

Niuzao's Fortitude

Obsidian Skin

Scale Shield

Spirit Pulse

Toxic Sting

Winged Agility

Exotic

Calcified Carapace

Dune Strider

Shimmering Scale

Bonus
Specialization