Wolfshead Helm
Item Level

45

158 Armor
+10 Agility
Equip: When shapeshifting into Cat form the Druid gains 20 energy, when shapeshifting into Bear form the Druid gains 5 rage.
Durability 80 / 80
Classes: Druid
Requires Level 40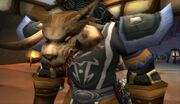 The Wolfshead Helm is a crafted leather head armor for druids.
Source
This item is crafted with Leatherworking (225); taught once by Tribal Leatherworking trainers, although the specialization was not needed.
Patch changes
External links