"Worg Pup" redirects here. For Nisstina's Companion in Dalaran, see Worg Pup (NPC).
Worg Carrier
Use: Teaches you how to summon this companion.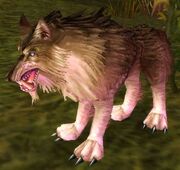 Source
This item drops from Quartermaster Zigris in Blackrock Spire. This pet is unique in that it has two "skins". Use of the carrier displays a black-furred pup or a brown-furred pup at random.
Scout Nisstina has a Worg Pup companion in the Black Market area of the Underbelly.

The subject of this section was removed from World of Warcraft in patch 4.0.3a but is present in Classic.
In Classic, it is a quest reward from

 [59D] Kibler's Exotic Pets.
Pet Journal
Worgs are the favored companions of orcs and are fiercely loyal on the battlefield.
Battles
Patch changes
Patch 4.0.6 (2011-02-08): Added to Quartermster Zigris's loot table as guaranteed drop. Quality changed from common to rare.

Patch 4.0.3a (2010-11-23): Kibler's Exotic Pets quest removed, making the item unobtainable.

External links
Battle pet types
Beast battle pets

Archetype of Cunning

Archetype of Discovery

Archetype of Predation

Bloodfeaster Spiderling

Blushing Spiderling

Copperfur Kit

Corpulent Bonetusk

Goldenpaw Kit

Green Viperid

King Viperid

Momma Vombata

Red Viperid

Rosetipped Spiderling

Ruby Baubleworm

Rustfur Kit

Sable

Tarachnid Ambusher

Tarachnid Stalker

Topaz Baubleworm

Tunneling Vombata

Turquoise Baubleworm

Verdant Kit

Viperid Menace

Vombata Pup

Worg Pup