For lore about workshops, see Workshop.
The Workshop[50.2, 52.7]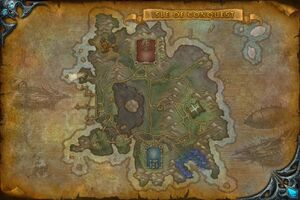 (also called Siege Workshop in some achievements) can be found in the center of the Isle of Conquest, west of the bluff on which the Hangar resides.
The faction that possesses the workshop is granted access to siege weapons that can be used to attack the enemy's keep. Depending on who controls the building, it is occupied by a Gnomish Mechanic or a Goblin Mechanic.
Weapons
Patch changes
External links