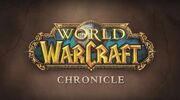 World of Warcraft: Chronicle (or simply the Warcraft Chronicle) is a series that attempts to codify, tighten up and clarify the history of Warcraft.[1] There are three volumes.[2]
Chronicle is the "Warcraft Book of Cain" that was first mentioned by Chris Metzen at the Mists of Pandaria launch party in 2012,[3] which refers to the book released alongside Diablo III that covered the Diablo universe's lore. According to Micky Neilson, the book is like a bible with illustrations.[4] Chronicle is checked by internal readers and Blizzard's historians.[5] Information that is left out from the Chronicle books and originate from other canon sources is still considered canon.[6] At BlizzCon 2019, Steve Danuser stated that Chronicle is written from the point of view of the titans and their servants, as well as "a lot of other perspectives", and there are elements of the cosmology that weren't known about and which are therefore only hinted at in Chronicle.[7]
Matt Burns hinted on several occasions that there may be more volumes in the future,[8] but for now, the third volume, despite ending with "To be continued..." like the first two, is the final one. In late 2018, it was re-confirmed that despite the series having had a really good reception, there are no plans for an eventual continuation.[9] In 2021, World of Warcraft: Grimoire of the Shadowlands and Beyond was released, sharing a similar format and purpose, chronicling the history of the Shadowlands and the cosmology of the universe from the perspective of the denizens of the realms of Death.
Volumes
Possible future subjects
These subjects were stated to be possibly covered in future volumes.
Notes
The lore section of the Warcraft III: The Frozen Throne game manual is also called "Chronicle."
According to Matt Burns, Chronicle Volume 2 has a very high-up view of the first great wars compared to the original games so their unmentioned battles and events still could have happened.[34][35] Furthermore, some events in Chronicle Volume 3 were left out due to already being told in other books and game manuals.[36]
Gallery
References
Type
Binding
& format
Guides books

Lore

World of Warcraft: Chronicle
Exploring Azeroth