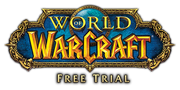 World of Warcraft: Free Trial introduces a new way to begin the great adventure. With this World of Warcraft free trial, a player can create their hero, join the Horde or Alliance, and venture to the mysterious island of Exile's Reach in search of a lost expedition. As a player leaves Exile's Reach behind, the lessons mastered will help as they embark on the Battle for Azeroth content. Advance the hero to level 20, then continue playing as much as is wanted! When ready to progress further, simply subscribe to access an ever-growing universe and continue leveling to 50.[1]
Note
Patch changes
References
Warcraft

World of Warcraft

Editions

Standard

Battle Chests

Collector's

Digital Deluxe

Other

Misc.

Non-computer

Board Games

GameVaults: World of Warcraft Edition

Card Games

Movies

Other

Games and products followed by  † were canceled, are no longer being produced, or just no longer available.