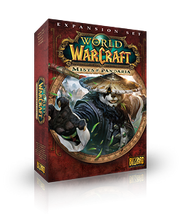 The World of Warcraft: Mists of Pandaria Digital Deluxe Edition (MoP DDE for short) included a full digital copy of Mists of Pandaria, as well as in-game content to aid you in your heroic adventures across Pandaria. The digital deluxe version essentially provides the in-game rewards of the Collector's Edition at a reduced cost, but without the out-of-game items (such as the soundtrack and the art book).
This deluxe edition is no longer available for purchase and was archived on March 3, 2014.[1] The mount and pet were made available for purchase again separately on June 30, 2020.[2]
Contents
The following in-game items were available in the DDE:
Gallery
Digital Goodies
See also
References
External links

World of Warcraft Community Site
Warcraft

World of Warcraft

Editions

Standard

Battle Chests

Collector's

Digital Deluxe

Other

Misc.

Non-computer

Board Games

Card Games

Movies

Other

Games and products followed by  † were canceled, are no longer being produced, or just no longer available.