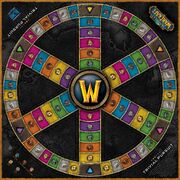 World of Warcraft: Trivial Pursuit is a World of Warcraft tabletop game. It features 600 questions, across 6 categories including: Geography, Player Characters, Lore, Loot, Villains, and Encounters. Murloc figurines are moved across the board, and the game can be played by up to 6 players.
The game was announced to be released in September, 2013.[2] It was released on September 26, 2013.[3]
See also
References
External links

Blizzard Gear
 WORLD OF WARCRAFT TRIVIAL PURSUIT - QUICK PLAY EDITION

EntertainmentEarth.com
 World of Warcraft Edition Quick Play Trivial Pursuit
News

BlizzPlanet
 Trivial Pursuit: World of Warcraft Edition Pre-Order Available

Twitter
 USAopoly Games

BlizzPlanet
 Blizzplanet Visits Toy Fair 2013 – Trivial Pursuit: World of Warcraft Edition Photos

BlizzPlanet
 USAopoly to Unveil TRIVIAL PURSUIT: World of Warcraft at Toy Fair New York
Warcraft

World of Warcraft

Editions

Standard

Battle Chests

Collector's

Digital Deluxe

Other

Misc.

Non-computer

Board Games

Card Games

Movies

Other

Games and products followed by  † were canceled, are no longer being produced, or just no longer available.