Worn Monument Ledger
Use: Carefully crate the restored artifact.
"Artifact details have already been logged in your Archaeology Journal, under the Completed Artifacts tab."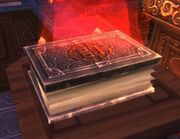 The Worn Monument Ledger is a common mogu archaeology artifact, created from 50 Mogu Archaeology Fragments. Up to one
 [Mogu Statue Piece] may be used to solve this artifact. A pristine version can also be crafted.
Description
Even with powerful magic at their disposal, the Mogu often preferred to use slaves to build their massive monuments. This ledger documents the cost, in slaves, during the construction of one such monument.
Patch changes
External links