Wowhead
URL
https://www.wowhead.com
Type
Database
Registration
Free
Launched
Closed:
 April 4, 2006
Public:
 June 25, 2006
Maintained by
Wowhead staff and Fanbyte
Popularity
477[1] (Alexa)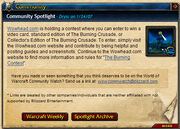 Wowhead is a World of Warcraft information database featuring a JavaScript interface. The site catalogs items, quests, talents, and much more — all able to be searched, sorted, and arranged to find the information needed. Wowhead is currently the only major database website that has been mentioned by Blizzard in their Community Spotlight.
The website started out as a talent calculator in December 2005. The talent calculator offers the ability to import builds from Blizzard talent calculators. It was in beta from April 4 to June 25, 2006,[2] and the database was released on June 26, 2006.[3]
Wowhead makes extensive use of AJAX for its interface function and requires JavaScript to be enabled in order to function.
The Wowhead Classic branch was launched on November 2, 2018, in preparation for World of Warcraft: Classic.[4] A Thottbot theme was made available on February 9, 2019, to provide a genuine classic experience.[5]
Ownership
Wowhead was originally a privately owned site, owned by its founders, Joshua and Guillaume. In June 2007, Wowhead was sold to Fanbyte (then ZAM Network), a wholly owned subsidiary of Affinity Media, after several management and hosting changes.
Wowhead Client
An application (for Windows and macOS) that checks for data to upload, uploads data, installs the client AddOn, and checks for updates.[6] Requires a Wowhead account to upload data.
References
External links

Wowhead

Wowhead Classic
Related

With A Little Help From Wowhead
 By the LFG comic author

Dark Legacy Comics
Reviews

I <3 KuriNeko
 New Link! - Wowhead

BorkWeb
 Wowhead, The New ThottBot