Wowpedia
Type
Wiki
Statistics

249,932 articles.
147,424 files.

Other media
Wowpedia is a wiki dedicated to cataloging Blizzard Entertainment's Warcraft universe, with a focus, though not priority, on World of Warcraft. It covers the entire Warcraft series of games, RPG reference books, strategy guides, novels, comics (manga and otherwise), and other sources.
About Wowpedia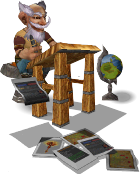 The wiki is a flexible, user-editable web-based database of information made up entirely of user contributions, and uses MediaWiki software. All the text in the wiki is released under the Attribution-Share Alike 3.0 Unported license and to be able to edit the articles, visitors must register with the website.
So why a Warcraft wiki? As you are going through looking for information, if you see something that is incorrect, you can correct it. If you see any information that is missing, you can add it. This way, the information here should be as up to date as possible, instead of having to wait for a small group of people to update the information as the world changes. The more people that use Wowpedia, the more up-to-date the information will be!
Wowpedia is not a copy of Wikipedia — we do many things differently.
The WoW community often uses slang terms, which is in part reflected here. In addition, you may occasionally find information here on some articles that is decidedly not NPOV.
Wiki is not a religion here, it is a way of editing.
We strive to be as "lore-neutral" as possible. We do not decide what is "official" and what is not — that is Blizzard's job. We record the known information and try to present all sides of any valid controversy. Check our lore policy for further details.
We do not flag spoilers — if new information has come out it will be added to the wiki.
We aim to produce easily navigated, high quality articles.
Background

WoWWiki.com was launched on 24 November 2004 by Rustak, in conjunction with AlexanderYoshi, as a source of information pertaining to World of Warcraft and the interface modification suite Cosmos.[1] Since its launch, WoWWiki expanded massively to cover the entirety of the Warcraft universe, including the real-time strategy games, novels, the RPG reference books, manga, and other written sources, along with the World of Warcraft expansion packs.
It was also a primary and popular source for World of Warcraft interface customization and addon information as Blizzard Entertainment themselves did not release documentation on the programming interface.[2]
Split
On 2 May 2007, it was announced that WoWWiki would be moving to Wikia. This move occurred two weeks later.
On 29 September 2010, discussion began on whether to leave Wikia, due to irreconcilable differences with the administration. However, it was discovered that Wikia owned the domain name wowwiki.com and intended to keep a copy of the site running even if it moved. As a result of that discussion, a fork of WoWWiki was created as Wowpedia (wowpedia.org), with the new site being hosted by Curse and the new wiki becoming usable on 17 October 2010.
On 4 December 2010, the new World of Warcraft community site was announced on Battle.net including mention that direct links to Wowpedia would appear on many pages along with Wowhead links.[3][4]
Wowpedia merged with Curse's Gamepedia wiki-hosting platform in July 2013 in order to unify logins with the rest of the Curse network and simplify maintenance workloads on the backend. In December 2014, Wowpedia's URL changed to wow.gamepedia.com, though links to Wowpedia in other channels (like the @Wowpedia Twitter handle) continue to refer to the site using the old address.
Acquisition
In December 2018, Fandom acquired most of Curse Media, including Gamepedia (and Wowpedia with it).[5][6] On 23 March 2021, the domain was changed to wowpedia.fandom.com.
Trivia
Ownership and administration
Wowpedia is hosted by Fandom and ably supported by its admin staff.
The administrators:
See also
References