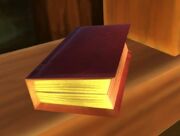 "Wrath of Soulflayer" is a book about the history of Hakkar.
Found at:
Wrath of Soulflayer
The long centuries following the Great Sundering of the world were difficult ones for the troll race. Famine and terror were commonplace within the broken kingdoms. The Gurubashi trolls, driven to desperate ends, sought aid from ancient, mystical forces. Though both of the troll kingdoms shared a central belief in a great pantheon of primitive gods, the Gurubashi fell under the sway of the darkest one.

Hakkar the Soulflayer, a vile, bloodthirsty spirit, heard the trolls' call and decided to aid them. Hakkar gave his secrets of blood to the Gurubashi and helped them extend their civilization across most of Stranglethorn Vale and certain islands of the South Seas. Though he brought them great power, Hakkar wanted more and more for his efforts.

The bloodthirsty god demanded souls be sacrificed to him daily. He dreamed of gaining access to the physical world so he could devour the blood of all mortal creatures. In time the Gurubashi realized what kind of creature they had courted with -- and turned against him. The strongest tribes rose up against Hakkar and his loyal priests -- the Atal'ai.

The terrible war that ensued between Hakkar's followers and the rest of the Gurubashi tribes is spoken of only in whispers. The budding empire was shattered by the magic unleashed between the angry god and his rebel children. Just as the battle seemed most hopeless, the trolls succeeded in destroying Hakkar's avatar and banishing him from the world.

Even his Atal'ai priests were eventually driven from the capital of Zul'Gurub and forced to survive in the uncharted swamplands of the north. Within those shadowy fens they built a great temple to their fallen god -- Atal'Hakkar -- where they could continue to do their master's work...

The rest of the Gurubashi tribes went their separate ways after the great civil war had left their lands in ruins. The Skullsplitter, Bloodscalp and Darkspear tribes set off to claim their own lands within the vast jungles of Stranglethorn. Though a fragile peace had settled over the broken empire, some spoke of a prophecy that Hakkar would one day be reborn into the world -- and on that day -- he would consume it whole.
External links