Wrath of the Lich King Soundtrack
World of Warcraft: Wrath of the Lich King Soundtrack



Cover art

Released
November 13, 2008
Length
01:22:18
Label
Azeroth Music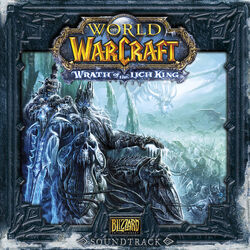 The World of Warcraft: Wrath of the Lich King Soundtrack was composed and arranged by Russell Brower, Derek Duke, Jason Hayes, Neal Acree and Glenn Stafford. It was released with the Collector's Edition of the expansion.
At the same time, the soundtrack was released via iTunes, but with three of the tracks changed to other selections. Players wanting to collect all of the music tracks will need to purchase both editions.
Description
The former Prince Arthas has launched a new campaign of undeath from his citadel in Northrend. As the plague once more sweeps across the land, the Alliance and Horde struggle to set aside their age-old hatreds and unite against the greater threat. Meanwhile, the blue Dragon Aspect, Malygos, plans to end the abuse of arcane magic, whatever the cost. This is the music of ice and despair, a dirge and a call to arms... the last stand against the Lich King.
Track list
Composers
Credits
Featured Musicians: Pedro Eustache – Flutes and Duduk
Guitars: Laurence Juber
Nyckelharpa: Cajsa Ekstav
Uilleann Pipes & Scottish Flute: Eric Rigler
Live Sessions and Orchestrations produced by: Edo Guidotti
Main Title and "Arthas, My Son" recorded by: the Northwest Sinfonia Orchestra and Chorus
Contracted by: Simon James & David Sabee
Sound Design: Brian David Farr
Cinematic Intro Music by: Neal Acree
With special thanks to: Kirin Landsgaard, Edo and Shelly Guidotti, Tina, Margaret and Karen Brower, Yuliya and Jasper Duke, Shyshkin and Duke Families, Bob and Kay Gates, Smt. Jahnavi Jayaprakash, Aaron, Ethan, Quinn and Susan Stafford, Keith Landes, Kevin Crook, Brianne Messina, Joeyray Hall, Evelyn Fredericksen, Chris Metzen, Frank Pearce, Mike Morhaime, Paul Sams and the entire Blizzard Entertainment Sound Department
Gallery
External links