For the location, see Angrathar the Wrathgate.
Wrathgate
Publisher(s)
Cryptozoic Entertainment
Type
Standard
Release date
May 23, 2010
Total cards
220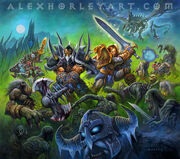 Wrathgate was the 11th TCG expansion, released on May 23, 2010. It is set 2 of the Scourgewar Block.
Loot cards
Set Details
Card Totals
The set contains 220 cards:
95 Commons
55 Uncommons
60 Rares
10 Epics
3 Loot
Cards
External links
WoW TCG official site page for the Wrathgate Expansion
Standard Sets

Heroes of Azeroth Block
March of the Legion Block
Drums of War Block
Scourgewar Block
Worldbreaker Block
Aftermath Block
Timewalkers Block

Dungeon & Raid Decks
Preconstructed Decks

Class Starters - Retail

2011 Class Starters - Spring

2011 Class Starters - Fall

2013 Class Starters - Spring

Collector's Sets
Promos
Treasures

Caverns of Time Treasure

Dungeon Decks 2011 Treasure

Misc.