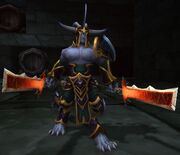 For Wrathguard lore, see Wrathguard. For the spell to summon a Wrathguard, see

[

Summon Wrathguard

]

.
The Wrathguard is a demonic minion, available at level 75. It is unlocked by the talent

[Grimoire of Supremacy] and replaces the Felguard.
Abilities
As a warlock minion, the Wrathguard possesses two abilities replacing those of the Felguard.
Quotes
Attack
"By your orders!"
"I live to be commanded!"
"I will strike them down!"
"None will survive!"
Dismiss
"I will stand down!"
"By your leave."
"I shall await your summons."
"I... will... return..."
Joke

"It's nice to get away from the void now and again. You think you have it rough? My wife never sleeps..."
Order
"I charge into the fray!"
"Of course!"
"With bloody pleasure!"
"At last!"
Summon
"I am bound to serve!"
"Point me at your enemies..."
"Unleash my fury!"
"Pleased to slay upon command!"
Trivia
Unlike most warlock minions who are in great displeasure to have been bound to the warlock's will, the Wrathguard seems to enjoy being a minion.
The Wrathguard appears as a common card for the Warlock class in Hearthstone. The flavor text reads: "After playing against 5 Annoy-O-Trons, any normal guard will become a Wrathguard."
Patch changes
Hotfix (2017-04-12): Wrathguard's Mortal Cleave should now hit the same arc as the Felguard's Legion Strike ability.

Patch 6.2.0 (2015-06-23): Model updated.

Patch 5.0.4 (2012-08-28): Added.