For the mob, see Wyrmtongue (Legion Invasion).
Wyrmtongues are a race of diminutive demons in service to the Burning Legion, mostly used for manual labor.[1]
Wyrmtongues use their own special kind of portals to haul in treasures.[2] They take their treasures to the Legion ship the Dreadex.[3]
Sometimes, they carry small spiders in jars.
Known
Named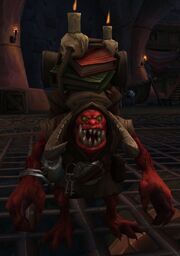 Unnamed
As a companion pet
Main articles: Alliance Enthusiast, Horde Fanatic, Wyrmy Tunkins
Notes and trivia
Thematically, they share a similar role to the gan'arg, whose only appearance in Legion is in Sentinax portals.
They can be easily lured by riches.[5]
 

[

Wyrmtongue Shoulders

]

drop from Balnazzar in Stratholme. The item has been in the game since the release of the original World of Warcraft, long before the wyrmtongue race was introduced in Legion.
Gallery
References
Creature group
Demon creatures