The subject of this article could only be obtained prior to patch 8.2.5.

The in-game information in this article is kept purely for historical purposes.
X-53 Touring Rocket
Mount
Use: Teaches you how to summon this mount.  This mount changes depending on your Riding skill and location.
Requires Level 60
Requires Expert Riding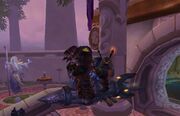 X-53 Touring Rocket was originally the second special mount that players could earn only through the Recruit-A-Friend program. The X-53 was available to players who claimed their RAF reward between April 27, 2010 and July 15, 2012. It replaced the

 [Swift Zhevra] reward and was then replaced by the
 [Heart of the Nightwing].
In patch 5.4.1, the Recruit-A-Friend program was updated to include a choice of one mount from all current and previous Recruit-A-Friend mounts, and one companion from Asian-only promotions.
Notes
The X-53 is one of the only few flying mounts available in the game that allow for multiple passengers. It originally scaled to match the speed of your fastest owned mount, up to 310% flight speed.
The X-53 is likely based off the X-52 rocket located in Area 52, Netherstorm.
Using this mount, players who don't have cold weather flying can get the explorer achievement with some help from a friend.
Summoning this mount triggers the global cooldown, unlike most other mounts.
As of patch 4.0.1 the rocket can now be ridden as a ground mount in no-fly zones at 100% ground speed.
The mount is mailed in-game to the character you select from Master Handler Sylvester. With the item is a unique letter written up as a shipping manifest:
X-53 Nether Rocket
TO: <name>
FROM: B.O.O.M. Rocket Works
CONTENTS OF CRATE:
- One (1) X-53 Nether Rocket, Touring Model
- One (1) Rocket Ignition Key
- One (1) Rear-Mounted Ejector Seats
- Zero (0) Parachutes
Despite what the letter says, a passenger who ejects in mid-air will get a parachute, like for all other two-person flying mounts.
Patch changes
External links
Mount family

Dragonkin
Feathermane
Invertebrate
Mammal
Reptile
Other

Specific types

 

Mechanical mounts

Aircraft
Hovercraft
Robots

Rockets
Wheeled
vehicles

Trikes