Za'amar the Queen's Blade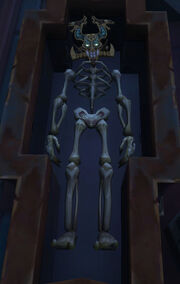 Za'amar the Queen's Blade is a troll spectre found in Nazmir.
Abilities
  Valiant Defense — Raises a shield, deflecting all ranged attacks and spells and blocking all melee attacks from the front.
  Valiant Thrust — Inflicts Nature damage to enemies in front of the caster.
Drops
Objective of
Quotes
De queen's rest must not be interrupted!

Forgive me, my queen.

I am de queen's eternal protector! Begone!

My queen... I have failed you!

My watch... is... over...

None may approach de queen!
Notes
Patch changes
External links