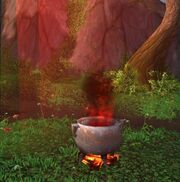 Zandalari Voodoo Cauldrons are blue, red, green, and purple cauldrons found on the Isle of Reckoning in Kun-Lai Summit.
Buffs
When interacted with, the player receives the following buffs:
Voodoo Brew - Dressed like a Zandalari Witch Doctor! Zandalari trolls think you're friendly... Dance with your fellow Witch Doctors!
Mysteriously Tasty Concoction - Mastery increased by 9. Lasts 1 hour.
The Hexxer's Touch - Attacks have a chance to hex your target.
Maggot Slurry - You don't feel so great...
Patch changes
External links