Zarbo Porkpatty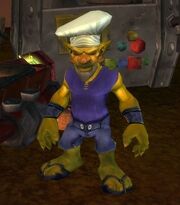 Zarbo Porkpatty is a goblin located at Orgrimmar Rocketway Exchange in Azshara.
He used to reside in Goblin Slums of Orgrimmar, but was moved to Azshara following the construction of Orgrimmar Embassy along with Karizi Porkpatty, who might be his wife.
Despite still being titled as a cooking trainer, he no longer offers any services. His former position in Orgrimmar is now occupied by Feng Su.
Quotes
Gossip
My position has been eliminated... feels like early retirement.
Patch changes
See also
External links