This article is about the Blizzard CM. For the mob on Timeless Isle, see Zarhym (NPC).
Zarhym

Role
Former Community Manager

Most recent posts on WoW Forums

"Obtaining knowledge isn't the same as taking a guess, educated or otherwise, so there isn't a need to play off how sure you are of things you don't know."
Twitter
Jonathan Brown (alias Zarhym, previous aliases Timbal and Batta) is a former Blizzard employee and a Community Manager for the US World of Warcraft forums. Brown is believed to have joined Blizzard in 2005,[1] and was introduced to the community on the forums on June 13, 2008 by Eyonix. Zarhym is also found in-game on the Timeless Isle as a ghostly skull resembling Brown's forum avatar.
Zarhym abruptly left Blizzard on Friday, March 10, 2016,[2][3] with no official "goodbye thread" as is typical[4] of departing community managers.[5] His next career move was previously unknown,[6] but he has since surfaced as a Community Manager with long-time friend Bashiok at NCSOFT West.[7]
Timbal

Before posting as Zarhym, Jonathan posted as Timbal.[8]
Timbal was a US moderator staff, usually taking care of the graveyard shift. This typically means he dealt with the more blatant and offensive trolls who believe that because there are fewer moderators on, their posts will remain up until morning. Frequent posters in the Off Topic forum had a rather cordial relationship with him, due to how frequently they interact.
The
 [Timbal's Focusing Crystal] was inspired by him.
Zarhym's introduction
Eyonix's Introduction
Welcome Zarhym! | 2008-06-13 00:00 | 
Eyonix
Please join us in welcoming Zarhym to the World of Warcraft community team! Zarhym has a very strong passion for World of Warcraft and is enthusiastic about dedicating his time to learning more about each of your needs and making sure that you're properly heard.

Welcome, Zarhym!
Zarhym's response
Welcome Zarhym! | 2008-06-13 00:00 | 
Zarhym
Thank you everyone for the warm welcome! I'm excited by the opportunity to represent this community and look forward to getting to know some of you more closely in time. :)
Birthday
His birthday appears to be May 22. Bornakk posted with this message to Zarhym:
Re: Recent In-Game Fixes | 2009-05-22 00:00 | 
Bornakk
---
Happy Birthday to you! Happy Birthday to you! Happy Birthday Zarhym! Happy Birthday to you!
Music tastes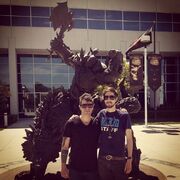 Zarhym and Bashiok are big fans of Puscifer - a band that shares the vocalist of Tool. At one point, Zarhym had lyrics from a Puscifer song as his forum signature. Puscifer member Josh Eustis was invited to visit Blizzard HQ, and Zarhym posted a photo afterwards to Facebook and Instagram.
Awards
At Dragon*Con 2012, Zarhym was presented with the very first "Community Manager of the Year" award. Blizzard won "Best Community Management team" as well.[9]
Image gallery
References
External links