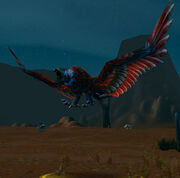 Zaricotl is a rare vulture located in the Badlands.
Quotes
After killing a player, Zaricotl displays this emote:
Zaricotl seems much calmer now that it has eaten the remains of <player>.
Notes and trivia
Patch changes
Patch 8.0.1 (2018-07-17): Model updated.

Patch 4.0.3a (2010-11-23): Model updated. No longer a level 55 elite.

Patch 1.3.0 (2005-03-07): Zaricotl no longer drops an NYI (Not Yet In) quest item (the  

[

Pocked Black Box

]

) for Horde players.

External links