Zephyr's Call
Use: Teaches you how to summon a Zephyrian Prince.
Source
This item is a rare drop from Al'Akir in the Throne of the Four Winds.
Pet Journal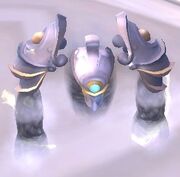 A minor diety[sic] of wind, lording over the tiny breezes that make you think the heat of the summer season will be bearable for a brief moment.
Battles
Elemental: Ignores all negative weather effects. Enemy pets can still gain the beneficial effects from weather when facing an elemental.
Criteria of
Patch changes
External links
Battle pet types
Elemental battle pets

Char

Dread

Fun Guss

Leafadore

Mawtouched Geomental

Stabilized Geomental

Stemmins

Withering Creeper

Zephyrian Prince