Zomstrok
Use: Teaches you how to summon this companion.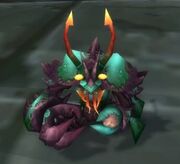 Source
Zomstrok is dropped from Darktide Boneshell and Darktide Husk in Shadowmoon Valley.
Pet journal
Zomstrok is evil incarnate, the unholy mistake of someone maddened by isolation, a creation that could not be undone.
Battles
Undead: Returns to life immortal for one round when killed, but deals 25% less damage.
Patch changes
External links
Battle pet types
Undead battle pets

Backbone

Carpal

Clutch

Lost Soul

Maw Crawler

Micromancer

Mu'dud

Severs

Spinebug

Toenail

Torghast Lurker

Writhing Spine

Zomstrok